Aufgrund der Corona-Situation wird dieses Konzert  abgesagt!
Tickets können da zurückgegeben werden wo so gekauft wurden !!!
Bei Kauf über den Hellraisershop wende Dich bitte von Montag bis Freitag zwischen 16Uhr bis 18Uhr an: 0178 – 1040426 oder an . Bei Ticketkauf über Eventim wende Dich bitte direkt an Eventim. Danke für Dein Verständnis.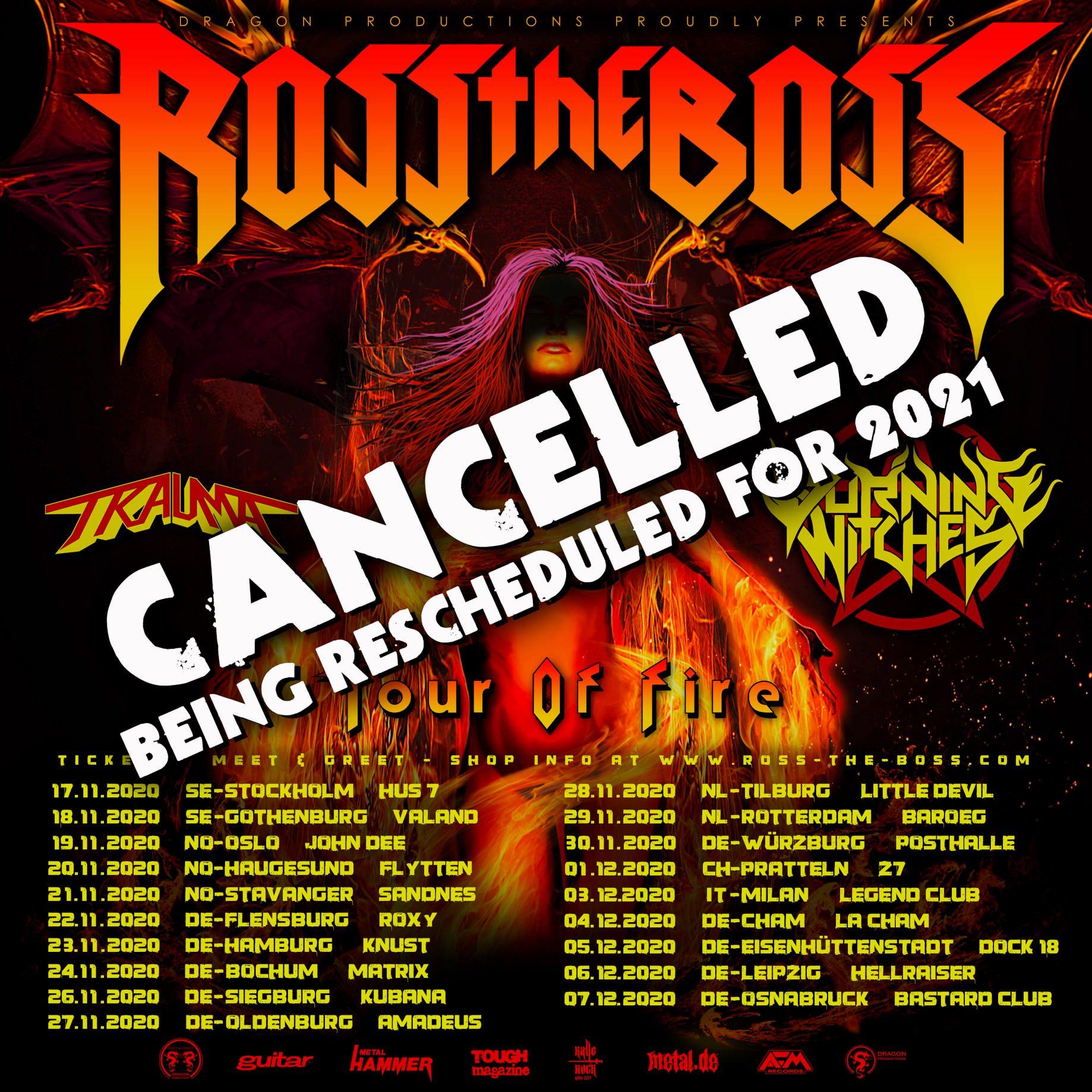 >>> HIER DAS STATEMENT DER BAND <<<
ROSS THE BOSS announces European Tour of Fire 2020
After the successful release of "By Blood Sworn" in 2018, a full European tour and glorious festival shows all over Europe, the ROSS THE BOSS band returns to Europe in April 2020 to promote their upcoming new album on AFM Records:
'We The Ross the Boss Band are really excited to announce this monster Euro tour. After working so hard this year on our new record Born of Fire, we are ready to unleash it. But dont worry, we are still playing all the classic tunes that WE ALL LOVE. Do not miss these shows. It's an amazing package of unbridled metallic and RnR power!!!
Ross and his band are teaming up with the Swiss all girl metal outfit BURNING WITCHES and California based true metal band TRAUMA. Burning Witches released their new album this March on Nuclear Blast Records and TRAUMA is currently in the studios recording.
"Those are exciting news for us – of course we are big MANOWAR fans! So when we got asked to join ROSS THE BOSS on this European tour, we were thrilled & flabbergasted! It is a big honor to share the stage with such great & experienced musicians! This is a kick ass billing for Heavy Metal maniacs – we hope to see many WITCHES disciples out there this November."
And Kris from TRAUMA comments: "We are so proud to be coming to Europe to deliver our classic hard hitting metal with the legend Ross The Boss"
Please be aware there will only be a very limited number of people allowed prior to each show for the Ross The Boss Meet and Greet as Ross performs solo on his guitar two songs just for those fans.